The Message of You Journal
Using the same stories over and over again?
Having a hard time finding a story that rocks the room?
Want to find that story that becomes your TED Talk?
What The Message of You Journal can do for you:
Uncover stories for speeches, TED talks, blogs, social media, TV appearances
Become conscious of your effect on others
Discover what holds you back from success
Control your experiences rather than letting them control you
Become a passionate leader and a motivational force in the world
Discover lost childhood memories 
Find and live The Message of You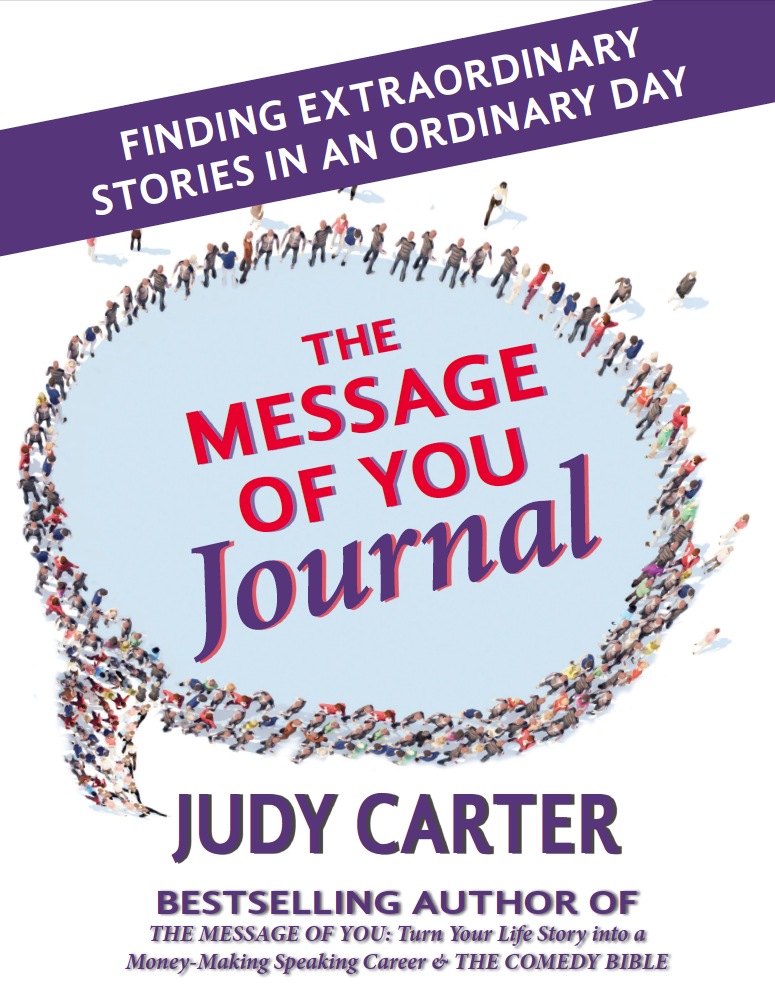 Lily Tomlin
Actress/Comedienne
"Judy Carter is not just funny but she also knows how to help others find their authentic message and communicate it in a way that makes audiences laugh."

Maz Jobrani
Comedian, TED speaker
"Thanks to Judy Carter I learned that the best material comes from your personal experiences. That philosophy helped me build a successful career as a standup comedian and become a TED speaker."

Ed Tate
Certified Toastmaster's World Champion of Public Speaking
"Judy has demystified another unsolved mystery by showing you how to monetize your life story. If you follow her exercises, the next best seller I'll be reading will be yours."

Judy Carter has created a 21-Day interactive journal that will guide you to uncover the inspiring stories that occur in an ordinary day before they slip through your fingers. You don't have to wait for dramatic life events to have a story that can turn into your TED talk, a memoir, or just something a little less stale to serve over dinner.  Nor do you have to rely on funny things happening to have a story that will have an audience wiping tears from their eyes in laughter. In a seemingly ordinary day, there are hidden stories that contain laughs, drama, and a powerful message that can create a ripple effect of inspiration.
How does it work?
This interactive journal, guides you to answer specific questions about 21 days of your life. After spending 15 minutes a day writing in the BOOK VERSION or the DOWNLOADABLE PDF VERSION, Carter then shows how the scenes from your daily life, combined with childhood memories can be turned into stories that can be used to promote your brand, enhance your speeches, and understand the meaning of your life.
This workbook has instructions and pages for you to write in and discover The Message of You! Free Shipping for Amazon Prime members. On Sale Now! $17.96
If you prefer writing on your computer, download "The Message of You Journal" PDF version. This PDF works on all platforms including, PC, MAC, iPad, and Android. $9.95
Join the FB group to get support from others doing the journal, and share your findings!


Cindy Chupack
Emmy-winning writer/producer of Modern Family, Sex and the City and others
"I learned from Judy how to embrace my missteps and misfortunes and turn them into comedy gold, and now, with this book, Judy will able to teach YOU how to discover and share your truthful, painful, hilarious, personal, hopeful, heartfelt message."

Janet Graham
M.A., MFT
"As a therapist, I am excited to give Judy's brilliant methodology to my clients to help them turn their life experiences into a message of inspiration."