Spend a weekend with Judy Carter…
Find Your Message.
Tell your Story.
Make it Funny.
Join Judy for an UNFORGETTABLE, creative writing workshop…
Use this workshop to:
Discover your TED talk

Write your book

Learn comedy formulas that always work

Connect to an audience with your story

Launch your speaking career

Wake up to the extraordinary stories happening everyday in an ordinary day

Find The Message of You

Having RIP-ROARING confidence to speak in front of any audience
Let Judy discover "The Message of You™:" your stories that will make people laugh, cry, and stand on their feet with applause.

In a fun, creative, and interactive workshop, Judy will give you writing prompts that will show you how the stories from an ordinary day can be used to promote your brand, enhance your speeches, and understand the meaning of your life.
Stop pushing your success to a later date… the time is NOW.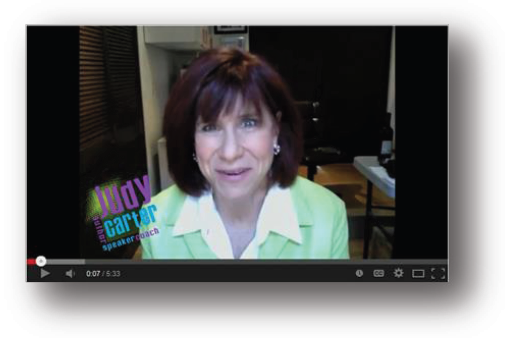 Listen to her past clients.


They were just like you… scared with a few journals of ½ baked ideas and see how Judy took them to having the career they dreamed of.
Who is Judy Carter?
Over 100 television & magazine credits: Oprah, Good Morning America w/ Diane Sawyer, Wall Street Journal, New York Times, CNN
Internationally Recognized as a Best-Selling Author, Key Note Speaker, & Humorist
Numerous Celebrity Clients: Seth Rogen, Reality Show Stars, Sherri Shepherd (The View).
Contributor for NPR's "All Things Considered"
Nominated for Atlantic City's "Entertainer of the Year"
At an early age, Judy Carter discovered that the messes in her life were great comedy material.
Judy's message of using humor as a transformational tool led to her being featured in the
Wall Street Journal, New York Times, The Oprah Winfrey Show, CNN,
as well as being a frequent contributor to
National Public Radio's "All Things Considered,"
and is a blogger for
Psychology Today.
As an author, Judy doesn't like to brag, but she did write the Bible. No joke, she's the author of
The Comedy Bible
(Simon & Schuster) as well as,
"Standup Comedy: The Book"
(Dell Books). Judy's new books,
"The Message of You: Turn Your Life Story into a Money-Making Speaking Career"
(St. Martin's Press), and
"The Message of You JOURNAL"
teaches readers how to become her competition.
Judy lives in Venice Beach, CA with her dogs and 6-toed cats who allow her to live with them.
More on Judy at
http://judycarter.com
Praise for Judy Carter
"I took Judy's workshop as a teenager in Vancouver--it kickstarted my career in comedy!"
-Seth Rogen, famous Vancouverite
internationally renowned comedian and actor
"Judy knows her stuff! It's like watching a shaman in action."
-Kelly Carlin, attendee of 2014 LA Workshop
performer, & upcoming author of A Carlin Home Companion about life with her father, George Carlin
"The best guest speaker we've ever had!"
-Xerox Montreal
"Attending Judy Carter's workshop was the best thing I ever did in my life! I now make six figures, fly First Class, and travel throughout the world as a professional comic."
-Dan Nainen, workshop attendee
stand-up comedian
Take advantage of this rare opportunity to work with Judy in-person…