For your next important meeting, what's it worth...
To start off with positive energy and optimism?
To immediately capture people's attention and focus?
To dramatically reduce stress and increase productivity?
And for everyone to finally say, "Thank God it's Monday!?"
Whether you need an early morning wake-me-up or a strong closing for your conference, best-selling author and TEDx speaker, Judy Carter keeps audiences laughing as they learn how to use humor and stories as leadership, sales, and stress-reduction tools. One of the funniest speakers you'll ever hear, Judy delivers laughter and life-changing results, plus business tactics and strategies audiences will use long after she leaves the stage.
Keynote Titles for Business Events
Leadership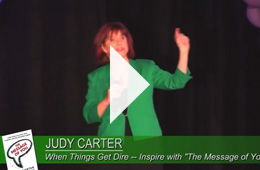 When Things Get Dire - Inspire!
When Things Get Dire - Inspire with "The Message of You"
Leadership/Business/Women/Healthcare
In Carter's presentation based on her new book, "The Message of You" (St. Martin's Press), Carter reveals how to use stories as a leadership tool that gets others to listen, connect, and take action. Knowing and sharing your message creates stronger loyalty with your clients, motivates your staff and reminds you of what you stand for, so when things get dire - you can inspire.
Take Aways:
Utilize Personal Life Lessons & Accelerate Work Relations
Become a Recognized Influencer & Immediately Connect with Your Audience
Build executive presence by speaking your message rather than data
Decrease stress by using your "Messes" to build your "MESSage"
Reduce the Fear of Public Speaking & Maximize Career Growth
Customized Keynotes on Stress Reduction
Judy Carter Tackles Acronyms
Stress IS a Laughing Matter: Your life is a joke and that's the good news!
Life and work are stressful - overwhelming deadlines, tons of emails, communication breakdowns... and that's just Monday.
Speaker, Judy Carter has a unique way of dealing with stress Ð laugh at it. She believes that once you can laugh at a problem, you have power over it. As a former standup comic turned TED speaker, her talk is irreverent (but nothing that's going to get flagged by HR!), eye-opening, and LOL funny as she shows how to transform problems into punch lines.
Her "Don't Get Mad, Get Funny" philosophy inspires people to deal with issues such as change, new technology, work-life balance, and burnout -- not to mention that overflowing inbox -- with a sense of humor, rather than a sense of desperation.
Take Aways:
Utilize gratitude appreciation & secure a permanent sense of well-being
Use humor to turn conflict into camaraderie
How to joke appropriately
"The Message of You"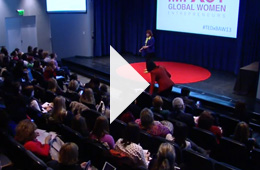 You Can't Spell Message without a M-E-S-S
The Power of Your Story to Connect with Clients
Do people look like they have more important things to do when you speak?
Is your "sales" pitch sounding phony?
Have you lost touch with your passion for your job?
In this age of hype and market saturation, many people are competing for the same clients and customers. Your credentials and expertise isn't always enough-AUTHENTICITY RULES. Now, more than ever, it's critical to find out WHAT SETS YOU APART FROM THE CROWD. And they are your signature stories, taken from your own history: the Message of You.
In this presentation, acclaimed humorist and stress reduction expert Judy Carter, will share the secrets of her new best-selling book, to help you:
Lead with your message, rather than your credentials to connect with clients and customers
Use your message to connect with clients via Social Media
Craft your "credential story"—how you took your clients from "mess to success"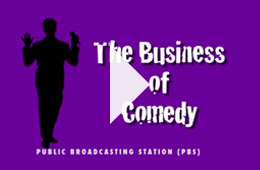 Motivational Speaker Judy Carter on PBS's "The Business of Comedy"
What People Say
"The feedback was outstanding... the highlight of the conference was you! Amazing keynote!"
"Even our CEO was doubled up with laughter... you turned technology into funny!"
"All of our employees really enjoyed you. You were funny, funny funny as well as a great inspiration to many."
"The way that you incorporated our specific work styles into your presentation really showed everyone how to "laugh their way out of stress," as well as deal with our differences with a sense of humor. Thanks to you, we are able to re-evaluate obstacles in our day-to-day lives with smiles on our faces."
"Your keynote address was perfect - inspiring and hilarious."
"We appreciate the fact that you made the performance more to our 'level', since we are a very technical group. I think I even saw our CEO dancing in his seat during your rap solo. You really helped us to kick off this conference and definitely set the mood for the entire week. We couldn't stop the cheering (Wahoo!)."
Reasons to Book JUDY
Inspiring Leadership Keynote with Humor
20% message + 80% entertainment = 100% uplifting
Break away from traditional leadership speakers to learn from a TEDx speaker and former stand-up comic on HOW TO USE STORIES AS A LEADERSHIP TOOL. Judy's innovative message based on her new book, "The Message of You" (St. Martin's Press), teaches your team insightful communication skills while she entertains.
A Different Approach to Stress Management
Discover a counterintuitive approach to stress management brought to you by a very funny lady who will keep everyone laughing as they learn how humor is their missing piece to communication excellence & stress management.
Judy's talks are all customized. Nothing canned.
All of Judy's keynotes are customized to your specific business or industry. Judy will work closely with you, gathering your facts, challenges, goals, plus even your acronyms! There's no doubt about it. If you're looking for humor with an on-target message that your people will take back to work (and then put to work!), you'll love Judy Carter.